Free Download Manual for Terex SS1048 Telehandler Parts Book – Equipment, Assembly, Circuits & Schematics in Full PDF.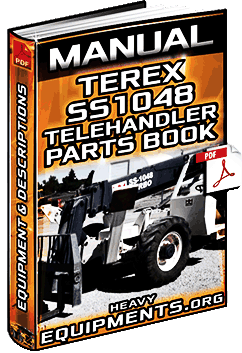 FREE MANUAL FOR TEREX TELEHANDLERS PROFESSIONALS – LEARNING
0B-QSOFWIS8JxX0t4S2VqUE80Wnc
8longiu8qyeyxntvt605xb4zvsf0n4c3
Square Shooter, Parts Book, SS1048, Cummins, B3.9-C-110 Turbo Engine, Optional, John Deere PowerTech 4045T Turbo Engine Intermediate Drop Transmission, Rexroth Hydraulic Pump, Main Valve, Controller, Index, Standard Equipment, SS1048, Square Shooter, Pages, Descriptions, Drawings, Seal Kits, Lube Chart, Filter Guide, Decals, General Assembly, Operator\'s Compartment Assembly, Power Train Assembly, Engine and Pump, Cummins B3.9-C-11O, Boom Assembly, Stabilizer Assembly, Lift Copy, Foot Brake, Parking Brake, Hand Brake, Transmission Control, Accelerator, Pedal End, Engine Enclosure, Exhaust, Air Cleaner, Pump Drive, Driveshaft Assembly, Front, Rear, Tire & Wheel Assembly, Electric Schematic, Wiring Diagram, Instrument Panel Assembly, Hydraulic Schematic, Circuits, Pump, Oil Reservoir, Lift-Tilt, Boom, 4-Way Controller, Auto-Controller, Steering, Sway, Front Stabilizer, Rear Axle Lock-Up, Pressure Switch, Brake, Oil Cooler, Fuel, Fuel Tank & Battery Box, Starter Relay, Sender, Sender, Cylinders, Lift, Tilt, Boom, Sway-Rear Lock, Stabilizer, Control Block, Standard Equipment, Logic Block, Motion Valve, Base Tilt Cylinder, Head Tilt Cylinder, Boom Cylinder, Base Lift Cylinder, Dual Pilot Check Valve, Boom By-Pass Valve, Orbitral Assembly, Selector Valve, Steering, Pressure Filter, Return Filter, Brake Valve, Hydraulic Pump, 4-WAY Controller, Main Valve, Optional Equipment, Cab Assembly, Sliding Window, Cab Door, Sliding Window, Fork Frame, Rotate, Rotate Cylinder, Dual Pilot Check Valve, Circuit, Fork Rotate, Electric Valve, Hose Roller Assembly, John Deere 4045T Engine Options, Engine and Pump, JD-4045T, Accelerator, Engine Enclosure, Exhaust, Air Cleaner, Pump Drive, Circuit, Oil Cooler, Fuel, Sender, Starter Relay, Sender Assembly, Cartridge, Normally Closed, Normally Open, Shuttle, Reducing Relieving, Reducing, Pilot Check, Check, Needle, Pilot Check, Counterbalance, Reducing Relieving, Shuttle, Drop Block, Electric, Sway & SQ. Shoot, Modular Control, Sway-Rear Lock, Lift, Tilt, Boom, Rotate, Stabilizer, Steering, Brake Actuator, Orbitral, Steering…
Pages: 204
Size: 5.52 MB
Format: PDF (Adobe Reader)
Contenido: Manual for Terex SS1048 Telehandler – Forklifts – Parts Book – Standard & Optional Equipment, Engine, Systems, Components, Assembly, Circuits, Schematics, Cylinders, Valves, Cab & Steering – Information
MANUAL – TEREX TELEHANDLER – FORKLIFTS – PARTS BOOK – STANDARD – OPTIONAL EQUIPMENT – ENGINE – SYSTEMS – COMPONENTS – ASSEMBLY – CIRCUITS – SCHEMATICS – CYLINDERS – VALVES – CAB – STEERING
Tags: manual, manuals, learning, books, instructions, file, book, document, free, instructionals, downloading, data, instructors, infos, learn, free, information, download, terexes, telehandlers, forklifts, parts, books, standard, optionals, equipments, engines, systems, components, assemblies, circuits, schematics, cylinders, valves, cab, steering, learning, downloads
Starting...
---