Recent
Free Download Manual for Kubota U48-4 Mini Excavator – Operation, Maintenance, Safety, Structure & Systems – Full PDF.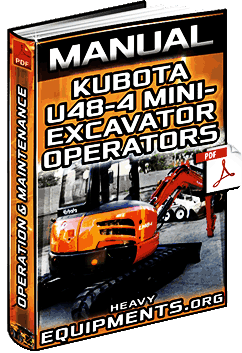 Full Manual – Learning
KUBOTA U48-4 MINI EXCAVATOR
OPERATION & MAINTENANCE
Kubota Excavator, General Symbols, Technical Data, Description of Machine Parts, Instrument Panel and Control Elements, Checks Before Start, Daily Checks, Checking the Devices, Starter Switch, Display Selector Switch, LCD Display for Normal Operation, Warning Lamp, LCD Display for Warning, Setting the Clock, Periodic Check, If All the Check Points are not Displayed at a Glance on a Single Screen, When the Check-Up is Completed, Horn Switch, Horn Switch, Aux Port Flow Rate Limit Switch, Throttle Potentiometer, Travel Speed Switch, Cab Type Machines, Wiper, Washer Switch, Interior Lamp, Cab Light Switch, Heater Switch, Opening, Closing of Cab Door, Closing of Front Cab Window, Air Conditioner, Air Flow, Air Control Vent, Control Panel, Operation, Handling the Safety Devices, Pilot Control Lock Lever, Operation of the Engine, Starting the Engine, Starting the Engine Under Cold Conditions, Starting with An Auxiliary Battery, Observe Following Guidelines When Starting with An Auxiliary Battery, Check Points After Starting the Engine, Stopping the Engine, Engine Stop Button, Precautions in Case of Overheat, Excavator Operation, Running-In of the new Excavator, Do not Work with Full Engine RPM'S or Full Loads During the First 50 Working Hours, Oil Change in the Run-In Stage, Adjusting the Operator's Seat, Seat Belt, Starting, Pilot Control Lock Lever, Driving Drive Levers(Right, Left), Turns, Pivot Turn, Spin Turn, Up and Downhill Driving, Parking on a Slope, Operation of the Dozer, Two Pattern Selection System(TPSS), Pattern Change, Operation of the Boom, Operation of the Arm, Operation of the Bucket, Unit Swing and Boom Swing Operation, Unit Swing Operation, Boom Swing Operation, Auxiliary Port Operation, Selecting the Action Modes, Aux Port Handling Procedure, Setting the Maximum Flow Volume, How to Release Pressure Trapped in the Hydraulic System, Auto Idle (Ai) Operation, Important Information on Excavator Operation, Transporting the Excavator on a Vehicle, Lifting of the Excavator, Maintenance, Maintenance Intervals, Opening and Closing of Covers, Closing of the Engine Hood, Closing of the Side Cover, Where to Store the Tool, Where to Store the Grease Gun, Where to Keep Operator's Manual, Cup Holder, Daily Checks, Checking Coolant Level, Checking Fuel Level, Checking Engine Oil Level, Checking V-Belt, Checking Radiator and Oil Cooler, Cleaning Pre-Cleaner, Greasing Boom Swing Fulcrum, Greasing Bucket Pin and Bucket Link Pin, Regular Checks and Maintenance Work, Draining Water Separator, Battery Charging, Every 200 Service Hours, Adjusting V-Belt Tension, Air Filter Maintenance, Air Conditioner, Every 250 Service Hours, Every 500 Service Hours, Drive Unit Oil Change, Replacing Breather Filter, Every 1000 Service Hours, Replacing the Hydraulic Pilot Filter Element, Hydraulic Oil Change, 1000, Replacing Air Filter Element, Every 1500, Every 2000 3000, Checking Injection Pump, Annual Servicing, Checking Air-Conditioner Pipes and Hoses, Biennial Servicing, Changing Radiator Coolant, Replacing Fuel Hoses and Clamps, Intake Air Line, Servicing As Required, Checking Amount of Refrigerant, Other Adjustments and Replacements, Purging of the Fuel System, Changing the Bucket, Fuses, Replacing Fuses, Auxiliary Electric, Slow Blow Fuse, Troubleshooting, Long Storage, Recommended Oils, Lifting Capacity, List of Screens, List of Normal Screens, Navigation List of Screens…
Pages: 122
Size: 3.17 MB
Format: PDF (Adobe Reader)
MANUAL – KUBOTA – MINI EXCAVATOR – OPERATION – MAINTENANCE – STRUCTURE – SYSTEMS – OPERATORS – COMPARTMENTS – SAFETY – DEVICES – STRUCTURE – CABIN – SPECS – COMPONENTS – SPECIFICATIONS – CHECKS – HOURS – SERVICING – CAPACITY – TROUBLESHOOTING
FREE MANUAL FOR KUBOTA MINI EXCAVATORS PROFESSIONALS – LEARNING
Free Download Catalogue for Volvo SD45B Single Drum Compactor – Features & Technical Specs in Full PDF.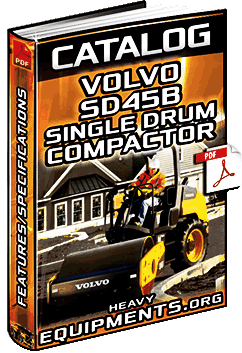 Full Catalogue – Learning
VOLVO SD45B SINGLE DRUM COMPACTOR
FEATURES & TECHNICAL SPECIFICATIONS
SD45B, Volvo Single Drum Compactors, A Passion for Performance, Helping you to do More, Designed to Fit your Needs, you Learn a Lot in 180 years, We're on your Side, We Have a Passion for Performance, A Strong, Dedicated, Capable Dealer Network, Building the Best Starts Right Here, The All-Rounder, Designed to Climb, Power Up, Costs Down, More Work, Fewer Passes, Volvo Puts you in Control, Versatility for All your Jobs, Drive Costs Down, Get to Work Fast, H Ere to Support you, Never Stop Improving, Control Service Costs, Efficient From the Ground-Up, Small in Size, Big in Performance, Versatility for All your Jobs, Designed to Climb, Power Up, Costs Down, Control Service Costs, Efficient From the Ground-Up, Volvo Puts you in Control, Never Stop Improving, Here to Support you, Get to Work Fast, Volvo SD45B in Detail, Model, Machine Weights, Drum, Vibration, Propulsion, Travel Speed, Electrical System, Brakes, Miscellaneous, Standard Equipment, Optional Equipment, Selection of Volvo Optional Equipment, Clamp-On PadFoot Shell, Strike-Off Blade, Inside Drum Scraper, Work Lights, Rotating Beacon…
Pages: 12
Size: 0.76 MB
Format: PDF (Adobe Reader)
CATALOGUE – VOLVO – SINGLE DRUM SOIL COMPACTOR – FEATURES – TECHNICAL SPECS – CHARACTERISTICS – PERFORMANCE – EFFICIENCY – SPECIFICATIONS – DETAILS – MODELS – DIMENSIONS – STANDARD – OPTIONAL EQUIPMENT
FREE CATALOGUE FOR VOLVO SOIL COMPACTORS PROFESSIONALS – LEARNING
Free Download Material for Cifa RH/RHS 95, 100, 110, 120 & 130 Truck Mixers – Technical Data & Specifications – Full PDF.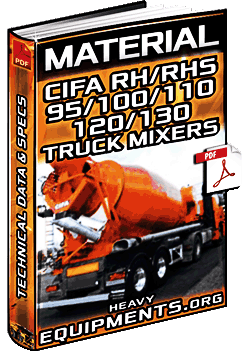 Full Material – Learning
CIFA RH/RHS 95-130 TRUCK MIXERS
TECHNICAL DATA & SPECIFICATIONS
RH, RHS, 95, 100, 110, 120, 130, Truck Mixers, Technical Data, Drum, Nominal Capacity, Geometric Volume, Filling Ratio, Rotation Speed, Diameter, Rollers, Water Pump Output, Water Pump Pressure, Water Meter Scale, Water Tank Capacity, Driven By, Separate Engine, Required Power, Dimensions, Frame Length, Max. Length, Overhang, Center of Gravity, Height, Total Eight Empty, Wheelbase, RH RHS, PTO, Separate Engine, Assembly, Structure, Optional, Standard Equipment, Adjustable Basic Frame, Drum, Wear Protection, Spiral Blades, Heat Exchanger, Water Tank, Quick Join Water Filler on Front Supporting Frame, Water Meter, Manometer for the Concrete, Plates, Control By Flexible Cables, Machine Completely, Power Take, Adjustable Support, Water Pump, Control Panel, Additives Tank, Hydraulic Piping's, Cyclist Guard, Special Painting, Alarm for Belt Breaking, Alarm for Aifo/Fiat…
Pages: 2
Size: 0.12 MB
Format: PDF (Adobe Reader)
MATERIAL – CIFA TRUCK MIXERS – TECHNICAL DATA – SPECIFICATIONS – DRUM – CAPACITIES – WATER PUMP – FEATURES – COMPARISON – DIMENSIONS – ASSEMBLY – STANDARD EQUIPMENT – STRUCTURE – OPTIONALS
FREE MATERIAL FOR TRUCK MIXERS PROFESSIONALS – LEARNING
---
Videos
Heavy Equipment

Manuals

Courses

Specifications

Manufacturers
Latest PDFs
Our Motivation
"Love all these tips, I'll be sure to give them a try. Thanks for sharing the wonderful information with us for used boom lift..."
"Dear Sirs, It is my pleasure to find such a valuable and useful website offering free of charge of service and maintenance books relating to heavy machines and equipments. Thanks for your sharing and support."
"Thank you very much by the provided information, I was recently trained as Services Technician by technicians for Africa Program. I am sure this information is going to help me boosting my career with Cat Machines."
"I just get your website while I was searching at Google... after I discovered your organization I think I will benefit from PDF manuals and videos that you provided about heavy equipment. Thanks very much."