Free Download Catalogue for Kubota V3300 and V3300-T Diesel Engine – Features and Specifications in PDF and Full.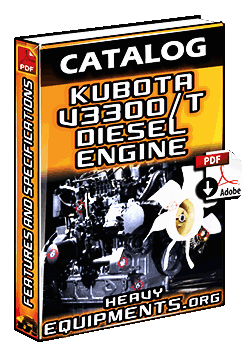 FREE CATALOGUE FOR PROFESSIONALS IN KUBOTA ENGINES – SPECS
0B-QSOFWIS8JxQkxHajhXTU5HRm8
ujo0ftu1t10h4pn8lvbxlxs16wi4ar74
Kubota Diesel Engine, V3300, V3300 Turbo, Liquid-Cooled Diesel Engine Featuring Multi-valve E-TVCS, Displacement, Maximum Output, Turbo, Kw, An Ideal Match Between Cleaner Exhaust and High Power, The Essence of Engine Perfomance, New Multi-valve E-TVCS, V3300, V3300-t Engines, Tenacious Peak Torque Control Mechanism, Large Capacity Side PTO, Step-valve Type Thermostat, Fan Attachment, Sided Maintenance, Oil Filter Position, Model Line-up, Super Mini, Super Five, Super Three, Features, More Stable Output, Meets a Variety of Uses, Easy to Access, Low Noise and Vibration, Kubota's Advanced Technology Created the First Heavy Duty Diesel Engine With 3 Valve Heads, An Ideal Blend of 3 Valve Per Cylinder Construction, 3 Vortexes and 3 Valve Recesses, Friendly to the Environment, Specifications, Model, Type, No. of Cylinders, Bore X Stroke, Total Displacement, Combustion System, Intake System, Output, Gross Intermittent, Net Intermittent, Net Continuous, No Load High Idling Speed, No Load Low Idling Speed, Direction of Rotation, Governing, Fuel Starter Capacity, Alternator Capacity, Dry Weight With SAE-flywheel and Housing, Brake Horsepower, Dimensions, SAE Flywheel and Housing Type…
Pages: 3
Size: 1.37 MB
Format: PDF (Adobe Reader)
Content: Free Catalogue for Kubota V3300 and V3300-T (Turbo) Diesel Engine – Features, Perfomance, Dimensiones and Specifications
CATALOGUE – KUBOTA – TURBO – DIESEL – ENGINE – FEATURES – PERFOMANCE – DIMENSIONS – SPECIFICATIONS
Tags: catalogues, catalog, specifications, specalog, specs, dimensions, details, data, technical, free, specalogs, information, download, trend, turbos, diesels, enginers, specs, downloads, learning, books
Starting...
---