Free Download Catalogue for Komatsu PC360LC-11 Hydraulic Excavator – Features, Specifications & Equipment in Full PDF.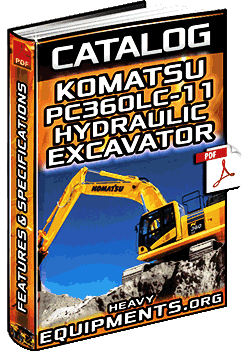 FREE CATALOGUE FOR PROFESSIONALS IN KOMATSU HYDRAULIC EXCAVATORS – SPECS
0B-QSOFWIS8JxbHJhV1dxS1ExeDg
iioc426xu8ao11jwcgkv4rqj17fnh4oj
PC360LC-11, Hydraulic Excavator, Net Horsepower, Operating Weight, Bucket Capacity, Walk-around, Fast Cycle Times and Low Fuel Consumption, Powerful Komatsu SAA6D114E-6 Engine, Komatsu Variable Geometry Turbocharger, Komatsu Diesel Particulate Filter and Selective Catalytic Reduction System, Large Displacement High Efficiency Pumps, Working Modes, Enhanced Power Mode, Two Boom Mode Settings, Komatsu's Closed Center Load Sensing System, Komtrax, Large LCD Color Monitor Panel, Rearview Monitoring System, Enhanced Working Environment, Komatsu Designed and Manufactured Components, Guardrails, Battery Disconnect Switch, Heavy Duty Boom, Komatsu Auto Idle Shutdown, Operator Identification System, Performance Features, Komatsu New Engine Technologies, Technologies Applied to New Engine, Heavy Duty, After treatment System, Kopf, Def Mixing Tube, Clean Exhaust, Ammonia Oxidation Catalyst, Secondary Selective Reduction, Primary Selective Reduction Catalyst for NOX, Heavy-Duty Cooled Exhaust Gas Recirculation System, Advanced Electronic Control System, Komatsu Variable Geometry Turbocharger, Komatsu Auto Idle Shutdown, Increased Work Efficiency, Large Digging Force, Faster Arm Cycle Speeds, Two Mode Settings for Boom, Lifting Mode, Heavy Duty High-Pressure Common Rail, Fuel Injection System, Enhanced Productivity, Working Environment, Comfortable Working Space, Wide Spacious Cab, Arm Rest With Simple Height Adjustment Function, Low Vibration With Cab Damper Mounting, Automatic Climate Control, Pressurized Cab, Auxiliary Input Jack, Standard Equipment, Sliding Window Glass, Remote Intermittent Wiper With Windshield Washer, Cigarette Lighter, Opening and Closing Skylight, Defroster, Magazine Box, One- Touch Storable, Front Window Lower Glass, Large High Resolution LCD Monitor, New Monitor Panel Interface Design, Indicators, Auto-decelerator, Working Mode, Travel Speed, Ecology Gauge, Camera Display, Engine Coolant Temperature Gauge, Hydraulic Oil Temperature, Fuel Gauge, Def Level Gauge, Service Meter, Clock, Fuel Consumption Gauge, Guidance Icon, Function Switches, Camera Direction Display, Def Level Caution Lamp, Switchable Display Modes, Visual User Menu, Energy Saving Guidance, Machine Settings, After treatment Devices Regeneration, SCR Information, Maintenance, Monitors Setting, Message Check, Support Efficiency Improvement, Ecology Guidance, Operation Record, Ecology Guidance Record, Fuel Consumption History, Operator Identification Function, Maintenance Features, Large Capacity Air Cleaner, Engine Access, DT-type Connectors, Diesel Exhaust Fluid Tank, Easy Access to Engine Oil Filter and Fuel Drain Valve, Battery Disconnect Switch, Air Conditioner Filter, Washable Cab Floor mat, Sloping Track Frame, Long- Life Oils, Filters, Maintenance Information, Maintenance Time Caution Lamp, Manual Stationed Regeneration. Supports the Self-Level and Refill Timing, Drawbar Pull, Working Mode Selection, Grease Sealed Track, Large Displacement High Efficiency Pump, High Rigidity Work Equipment, ROPS Cab Structure, Rear View Monitoring System, Low Vibration With Viscous Cab Mounts, Lock Lever, Retractable Seat Belt, Tempered, Tinted Glass, Large Cab Entrance Step, Large Mirrors, Travel Alarm, Pump, Engine Compartment, Komatsu Part, Service Support, Every New Komatsu Tier, Komatsu Parts Support, Komatsu Care, Extended Coverage, Komatsu Oil and Wear Analysis, Komtrax Equipment, Monitoring, Specifications, Engine, Hydraulics, Swing System, Undercarriage, Coolant and Lubricant Capacity, Operating Weight, Drives and Brakes, Working Forces, Dimensions, Backhoe Bucket, Arm and Boom Combination, Specifications, Working Range, Lifting Capacity With Lifting Mode, Standard Equipment, Alternator, Optional Equipment, Attachment Options…
Pages: 20
Size: 5.50 MB
Format: PDF (Adobe Reader)
Content: Catalogue for Komatsu PC360LC-11 Hydraulic Excavator with Tier 4 Final Engine – Data, Specs, Benefits, Overview, Features, Dimensions, Equipment & Technical Specifications
CATALOGUE – KOMATSU – HYDRAULIC EXCAVATOR – DATA – OVERVIEW – FEATURES – DIMENSIONS – SPECIFICATIONS – EQUIPMENT – SPECALOG – HEAVY DUTY EQUIPMENT
Tags: catalogues, catalog, specifications, specalog, specs, dimensions, details, data, technical, free, specalogs, information, download, trend, komatsus, excavatories, excavators, specs, learn, downloads, learning, books
Starting...
---