Free Download Catalogue for John Deere 160D LC Hydraulic Excavator – Features & Technical Specifications in Full PDF.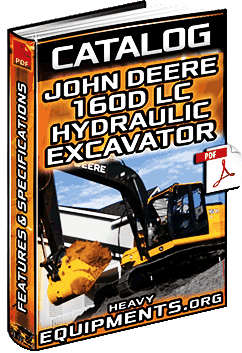 FREE CATALOGUE FOR JOHN DEERE HYDRAULIC EXCAVATORS PROFESSIONALS – LEARNING
0B-QSOFWIS8JxNVNKRWEtbmpzWEE
5pd9au0goq2y76fo9j91dabe2tsyhrz5
Raise your Standards, 160D LC, Net Power, Operating Weight, Lift Capacity, Digging Depth, Arm Breakout Force, Power wise, The Digging Gets, Hydraulic Recirculation, System Delivers, and Mid-Size Stature. Big-Size Results, Hydraulics and Signify Cant Increases in Weight, The Machine, Bring Out your Operators' Best, No Need to Leave the Seat to Match Hydraulic, No Shortage of Storage, Intuitive, Multi-Language Monitor, Optional Reversing Fan Automatically, Graphite-Iron Wet-Sleeve Cylinder Liners, Welded Bulkheads, With Large Idlers, Rigid, Reinforced D-Channel, Perforations in the Hood, Box-Section Track Frames, Nothing Runs Like a Deere, Because Nothing is Built Like One, Unlike Some Excavators, Machine Information, Auto-Idle Automatically, Large, Easy-To-Open Doors, Large Fuel Tank, Fluid-Level Sight Gauges, Uncover new Ways to Keep Costs Down, Like All John Deere Machines, Vertical Spin-On Engine Oil, Fresh-Air Cab Filter, Easy-To-Navigate LCD, Remote Diagnostic, Specifications, Engine, Manufacturer and Model, Non-Road Emission Standards, Net Power, Cylinders, Displacement, Aspiration, Off-Level Capacity, Cooling, Cool-On-Demand Hydraulic-Driven, Suction-Type Fan with Remote-Mounted Drive, Power train, Maximum Travel Speed, Low, Hydraulics, Open Center, Load Sensing; Auxiliary Hydraulic Flow Adjustable Through Monitor, Main Pumps, Maximum Rated Flow, Pilot Pump, Maximum Rated Flow, Pressure Setting, System Operating Pressure, Implement Circuits, Travel Circuits, Swing Circuits, Controls, Cylinders, Heat-Treated, Chrome-Plated, Polished Cylinder Rods, Boom, Arm, Bucket, Electrical, Batteries, Reserve Capacity, Alternator, Lights, Undercarriage, Carrier Rollers, Track Rollers, Shoes, Drawbar Pull, Track, Swing Mechanism, Swing Speed, Swing Torque, Ground Pressure, Triple Semi-Grouser, Serviceability, Refill Capacities, Fuel Tank, Cooling System, Engine Oil with Filter, Hydraulic Tank, Hydraulic System, Gearbox, Swing, Operating Weights, With Full Fuel Tank, Grouser Shoes, Undercarriage Length, Optional Components, One-Piece Boom, Boom Lift Cylinders Counterweight, Operating Dimensions, Arm Force, Bucket Digging, Lifting Capacity, Tail Swing Radius, Machine Dimensions, Overall Length, Rear-End Length, Undercarriage Length, Counterweight Clearance, Upper structure Width, Cab Height, Track Width with Triple Semi-Grouser Shoes, Gauge Width, Ground Clearance, Lift Charts, Over Front, Over Side, Over Front, Over Side, Buckets, Bucket Selection Guide, Auto-Idle System, Automatic Belt Tension Device, Fuel Filter with Water Separator, Turbocharger with Charge Air Cooler, Cool-On-Demand Hydraulic-Driven Fan, Auxiliary Hydraulic-Flow Adjustments Through Monitor, Load-Lowering Control Device, Control Pattern-Change Valve, Propel Motor Shields, Upper Carrier Rollers, Front Attachments, Operator's Station, Large Cup Holder, Electrical, Lights, Control Owning and Operating Costs, Fluid Analysis Program, Component Life-Cycle Data, Preventive Maintenance, Extended Coverage, Customer Support Advisors…
Pages: 16
Size: 1.17 MB
Format: PDF (Adobe Reader)
Content: Catalogue for John Deere 160D LC Hydraulic Excavator – Specs, Features, Technical Specifications, Performance, Engine, Systems, Weights, Dimensions, Lift Charts, Buckets & Equipment – Information
CATALOGUE – JOHN DEERE HYDRAULIC EXCAVATOR – SPECS – FEATURES – TECHNICAL SPECIFICATIONS – PERFORMANCE – ENGINE – SYSTEMS – WEIGHTS – DIMENSIONS – LIFT CHARTS – BUCKETS – EQUIPMENT
Tags: catalogues, catalog, specifications, specalogs, specs, dimensions, details, data, technical, learn, free, specalogs, information, download, trend, johns, deeres, hydraulics, excavators, specs, features, technicals, specifications, performances, engines, systems, weights, dimensions, lifts, charts, buckets, equipments, learning, downloads
Starting...
---