Free Download Catalogue: Volvo ECR235C L Hydraulic Excavator – Data, Features, Specifications & Equipment in Full PDF.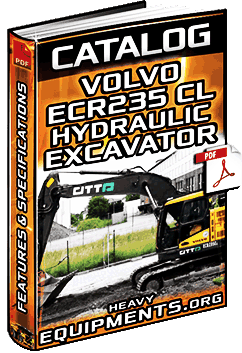 FREE CATALOGUE FOR PROFESSIONALS IN VOLVO HYDRAULIC EXCAVATORS – SPECS
0B-QSOFWIS8JxNHFnbUN0S09sLWM
8e6putfkqjwqn09bq1ozmqvkoss3h69k
Volvo Excavator, ECR235C L, The Perfect Fit to Your Jobsite, More Safety, Anti-slip, Punched Steel Steps, Platforms, Low Engine Emission Levels and Low Noise, Lead-free Exterior Paint, Cab Door Slides Neatly Along the Cab, Optional Rear-view Camera, More Productivity, Class-leading Stability, Smooth Combination Boom, Arm Operation, Brute Power and Fine, Precision Control, Powerful EU Stage IIIA, Volvo Quick Fit, Optional Dozer Blade, More Comfort, Volvo Care Cab, High-capacity Climate Control System, Spring Applied, Viscous Cab Mounting, Adjustable Consoles, More Innovation, Short Swing Radius, Excellent Center of Gravity for Smooth Balance, New, Rounded Cab Shape, More Uptime, Large Service Openings, Centralized Lubrication Points and Ground-level Filter Access, In-cab Monitoring, More Quality, Volvo Durability Built In, Strong Undercarriage Frame, Reinforced Superstructure, Round Out Your Production, Short Swing Radius, Volvo Care Cab Comfort, Work Where the Profits Are, Never Short on Performance, Operate Safely in a Single Lane of Traffic, Rounded Design With a Compact Swing Radius, The Name You can Trust for Quality, Your Edge on the Jobsite, A Stable Performer, Precision Control, Smooth, Fast Work, Application Versatility, The Right Fit for the Job, City, Public Works, Road Works, Waste Handling, Demolition, Forestry, Mining, Easy to Work. Hard at Work, Volvo Quality Runs Through and Through, Your Volvo Dealer Has the Support You Need, Access to Serviceability, Care track Helps Track Your Machine, Matris Gives You a Full Report, Ground Level Air Filter Access, Volvo Knows What Matters, Comfort Increases Productivity, Safe on the Jobsite, Perfect for Every Operator, A Concern for Our Surroundings, Your Global, Local Partner, Plenty of Interior Foot Space and Leg Room, LCD Color Monitor Is Bright and Easy to Read., Optional Rear View Camera Increases Safety, Volvo's Engine Leadership Spans Land, Customized to Order, Hydraulic Kits, Straight Travel Pedal, Rear View Camera, Hydraulic Quick Fit, Extra Work Lights, Dozer Blade, Wrist Control Joysticks – Proportional Control, Care track, Operator Seats, Extended Greasing Bushings, Volvo Optional Equipment, Hydraulic Kits, Specifications, Engine, Undercarriage, Hydraulic Motors, Electrical System, Cab, Hydraulic System, Summation System, Boom Priority, Arm Priority, Swing Priority, Regeneration System, Power Boost, Holding Valves, Main Pump, Pilot Pump, Ground Pressure, Dimensions, Ecr235cl, Boom, Arm, Front Dozer Blade, Working Ranges, Digging Force, Ecr235cl, Lifting Capacity, Standard Equipment, Cab and Interior, Optional Equipment…
Pages: 20
Size: 1.31 MB
Format: PDF (Adobe Reader)
Content: Catalogue for Volvo ECR235C L Hydraulic Excavator – Data, Specs, Benefits, Overview, Details, Features, Dimensions, Working Ranges, Lifting Capacity, Equipment & Technical Specifications – Information
CATALOGUE – VOLVO – HYDRAULIC EXCAVATORS – DATA – OVERVIEW – FEATURES – DIMENSIONS – SPECIFICATIONS – WORKING RANGES – LIFITNG CAPACITY – EQUIPMENT – SPECALOG – HEAVY DUTY EQUIPMENT
Tags: catalogues, catalog, specifications, specalog, specs, dimensions, details, data, technical, free, specalogs, information, download, trend, volvos, excavatories, excavators, specs, learn, downloads, learning, books
Starting...
---