Free Download Catalogue: Volvo ECR145D/ECR235D Excavators – Data, Features, Specifications & Equipment in Full PDF.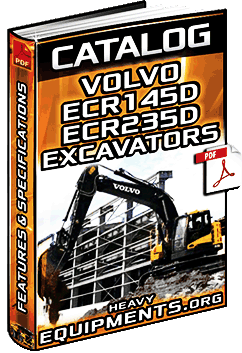 FREE CATALOGUE FOR PROFESSIONALS IN VOLVO HYDRAULIC EXCAVATORS – SPECS
0B-QSOFWIS8JxWm14QzRjVnRIcEU
ez9bognan4mlyddsqg35ajskgyhd9kd1
Volvo Excavators, ECR145D, ECR235D, A Passion for Performance, Helping You to Do More, Designed to Fit Your Needs, Building the Best Starts Right Here, You Learn a Lot in 175 Years, We're on Your Side, We Have a Passion for Performance, A Strong, Dedicated, Capable Dealer Network, Mack Trucks, Volvo Construction Equipment, Volvo Penta, Volvo Trucks, Renault Trucks, UD Trucks, Volvo Buses, Volvo Aero, Volvo Financial Services, Engineered for Efficiency, Efficient Engine, Regeneration, Eco Mode, Auto Idling System, Work Modes, Get the Job Done, Compact Swing Radius, Narrow Design, More Power. More Speed, Idle (I) Mode, Heavy (H) Mode, Fine (F) Mode, General (G) Mode, Work in Comfort, Industry-Leading Cab, I-ECU Monitor, Visibility, Seat, Control Panel, More Uptime, Service Points, Anti-slip Plates, Service Access, Air Filters, Main Control Valve, Profiling Your New Excavator, Boom and Arm, Caretrack, Power and Speed, Swing Radius, Eco Mode, Undercarriage, Volvo Cab, Matris, Efficient Engine, Service Access, Auxiliary Hydraulics, Reinforced Frames, Strength to Support You and Your Business, Caretrack, Customer Support Agreements, Attachments, Volvo ECR145D, ECR235D in Detail, Engine, ECR145D, ECR235D, Electrical System, Voltage, Batteries, Battery Capacity, Alternator, Swing System, Drive, Undercarriage, Volvo ECR145D, ECR235D in Detail, Hydraulic System, Summation System, Boom Priority, Arm Priority, Swing Priority, Regeneration System, Power Boost, Holding Valves, Hydraulic Motors, Travel Circuit, Slew Circuit, Pilot Circuit, Hydraulic Cylinders, Service Refill Capacities, Fuel Tank, Hydraulic System, Engine Oil, Swing Reduction Unit, Cab, Sound Level, Specifications, Maximum Permitted Buckets, ECR235DL, Machine Weights and Ground Pressure, Description, Shoe Width, Operating Weight, Overall Width, ECR145DL With Dozer Blade, ECR235DL, Dimensions, Boom, Arm, Specifications, Dimensions ECR145DL, Overall Width of Upper Structure, Track Length, Front Dozer Blade, Dimensions ECR235DL, Working Ranges ECR145D, Working Ranges ECR235D, Rotation Angle, Bucket, Breakout Force, Bucket Radius, Equipment, Standard Equipment, Engine, Electric/Electronic Control System, Hydraulic System, Swing Priority, Frame, Cab and Interior, Control Joysticks, Large Storage Area, Safety Glass, Seat Belt, Undercarriage, Track Shoes, Digging Equipment, Optional Equipment, Hydraulic System, Boom Float Function, Volvo Hydraulic, Cab and Interior, Boom Float, Falling Object Guard, Proportional Joystick, Dozer Blade, Two Piece Boom, UQF/SQF Quick Couplers…
Pages: 24
Size: 2.47 MB
Format: PDF (Adobe Reader)
Content: Catalogue for Volvo ECR145D & ECR235D Hydraulic Excavators – Data, Specs, Benefits, Overview, Details, Features, Dimensions, Buckets, Weights, Working Ranges, Equipment & Technical Specifications – Information
CATALOGUE – VOLVO – HYDRAULIC EXCAVATORS – DATA – OVERVIEW – FEATURES – DIMENSIONS – SPECIFICATIONS – WORKING RANGES – LIFITNG CAPACITY – EQUIPMENT – SPECALOG – HEAVY DUTY EQUIPMENT
Tags: catalogues, catalog, specifications, specalog, specs, dimensions, details, data, technical, free, specalogs, information, download, trend, volvos, excavatories, excavators, specs, learn, downloads, learning, books
Starting...
---