Free Download Catalogue: Volvo EC210B LC/LR Prime Excavator – Features, Details, Specifications & Equipment – Full PDF.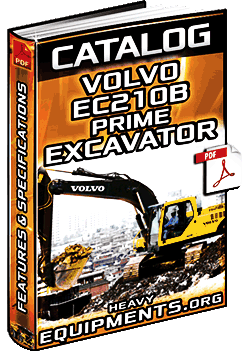 FREE CATALOGUE FOR VOLVO HYDRAULIC EXCAVATORS PROFESSIONALS – LEARNING
0B-QSOFWIS8JxZjNHWHAtYkhrbXc
ow2u0tdn3wkgcwmgwm6iad0tzikwxrmv
EC210B Prime, Take a Tour. Experience the EC210B Prime, More Safety, Safety is a Core Value, Anti-Slip Steps and Platforms, Low Engine Emission Levels and Low Noise, Tumbler Length, Recessed Bolts on Superstructure, Lead-Free Exterior Paint, More Profit, Powerful, Innovative and Efficient Volvo Engine, Advanced Hydraulic System, Optional Hydraulic Quick Fit, More Comfort, Large and Comfortable Cab, Roomy, Adjustable Seat, Top-Mounted Windshield Wiper, Vibration Dampening, Electronic Climate Control System, More Uptime, Simplified, Ground Level Serviceability, Easy Access, Centralized Lubrication Points, Easy to Learn, Easy to Operate, Easy to Get More Done, More Quality, Reinforced Superstructure, Greased, Sealed Track Link, Volvo, A Partner to Trust, your Global, Local Partner, A Smart, Quality Investment, New Innovations in Comfort, Fuel Efficiency Goes Farther, Put It to Work on your Job, Proven Endurance, Volvo\\'s Engine Leadership Spans Land, Sea, Sky and Space, Built to Run, Supported for Life, We Care About your Operation, Caretrack, Four Levels of Support, One Level of Care, Matris Reports on your Efficiency, Proses Makes Parts Ordering Faster, Specifications, Engine, Automatic Idling System, Engine, Electrical System, Service Refill Capacities, Swing System, Drive, Undercarriage, Hydraulic System, Summation System, Boom Priority, Arm Priority, Swing Priority, Regeneration System, Power Boost, Holding Valves, Cab, Integrated Air Conditioning and Heating System, Ergonomic Operator's Seat, Ground Pressure, Operating Weight Up To, Shoe Width, Ground Pressure, Overall Width, EC210B Prime, Working Ranges and Digging Forces, Lifting Capacity, Digging Forces with Direct Fit Bucket, EC210B LC Prime, Lifting Capacity, Standard Equipment, Engine, Electric, Electronic Control System, Hydraulic System, Superstructure, Cab and Interior, Undercarriage, Optional Equipment, Engine, Electric, Superstructure, Undercarriage, Track Shoes, Digging Equipment, Hydraulic System, Service…
Pages: 20
Size: 2.01 MB
Format: PDF (Adobe Reader)
Content: Catalogue for Volvo EC210B, EC210BLC & EC210BLR Prime Hydraulic Excavators – Features, Benefits, Overview, Details, Technical Specifications, Ground Pressure, Dimensions, Working Ranges, Digging Force, Lifting Capacity & Equipment – Information
CATALOGUE – VOLVO – PRIME HYDRAULIC EXCAVATORS – FEATURES – BENEFITS – OVERVIEW – DETAILS – TECHNICAL SPECIFICATIONS – GROUND PRESSURE – DIMENSIONS – WORKING RANGES – DIGGING FORCE – LIFTING CAPACITY – EQUIPMENT
Tags: catalogues, catalog, specifications, specalogs, specs, dimensions, details, data, technical, learn, free, specalogs, information, download, trend, volvoes, primes, hydraulics, excavators, features, benefits, overview, details, technicals, specifications, ground, pressures, dimensions, working, ranges, digging, forces, lifting, capacities, equipments, learning, downloads
Starting...
---